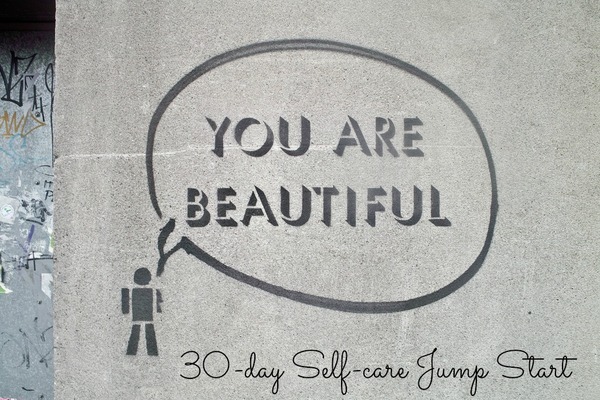 Good morning, beauty! Today's suggestion can go in a few different ways. I'm curious to hear how you have fun with it.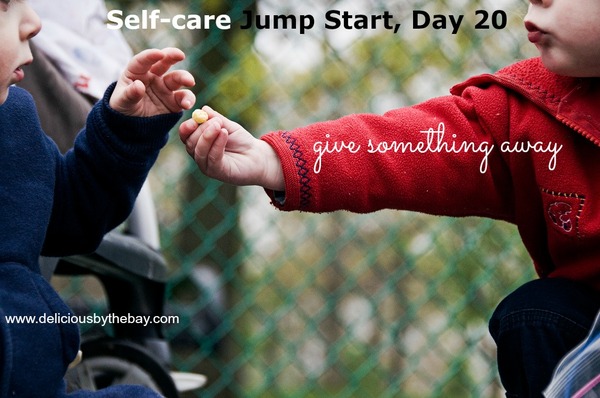 Give something away.
You could do it with the intention of helping someone. Today I was driving in Oakland with my son. We came to a stoplight where a man was sitting with a sign, asking for help. I rolled down the window and said I didn't have any cash, but could he use a package of socks? He took the socks, thanked us, and we chatted briefly while I waited for the light to change. I was so happy I just happened to have a bag of sock donations in the car (for a project I'm doing making personal care kits for homeless folks in town). I had just picked them up from someone a few minutes before. My son talked all afternoon about the man and how much he wants to go back and find him with a full dopp kit when we have them made. I decided I'm going to try to have a box of useful stuff to give out whenever I leave the house. Helping this guy just a little bit felt good.
Remember too that helping others helps us. Our neighbors' struggle is our struggle, and we can't be free and happy if we aren't all free and happy. I firmly believe that you will feel better and be happier if you give of your money, your time, and your  talents to organizations and movements that speak to your values.
You could give something away to clear space in your world. We discussed in an earlier lesson the benefits of a clutter-free home space. Giving away extra stuff feels great simply by the way it improves your environment. I have two kids who have 6 grandparents and scads of aunts and uncles who love bringing toys and gifts. Family generosity, kids' birthday party swag, and the clutter you accumulate as a homeschooling parent? We're hardly clutter-free but I'm working on it. Let's just say we make frequent Goodwill drop-offs in my house.
You could give something away as an exercise in detachment. Lately I've been thinking a lot about what matters to me. As I go through my stuff, trying to cull clutter and create a peaceful existence, I have had to admit that my partner and I are both too sentimental for our own good. As I've begun trying to reign in the stuff and stop any more stuff from coming in the door, I've enjoyed finding things that I hold dear-ish and giving them away. Last week I gave to an acquaintance two little action figures that the writer William Gibson gave to me over 10 years ago. She told me her husband is a huge fan, and while I'd held onto them like you might if you were given some trinket by someone famous that you admire, it felt so good to release these things to someone who would appreciate them too. I still had the memory of getting them (and of my kids enjoying them in the bathtub for years). The acquaintance said her husband loved them, and I get the benefit of less stuff to look after.
There are millions of other ways you can give to someone today: your time, a smile, a cup of coffee to the canvasser who is just doing his job outside the coffee shop. If you give today, I hope you'll share about it in the comments.
Warmly,
Kirsten
Kirsten Quint Fairbanks is health coach and holistic living expert who loves offering real-world holistic coaching for mamas who want to consciously cultivate big lives that get them totally fired up.  Kirsten lives happily, works gratefully, dances inexpertly, paints badly, cooks traditionally, and rocks a tiny homeschool in the San Francisco Bay Area.  She believes that connection can change your life.   Read more about her here.