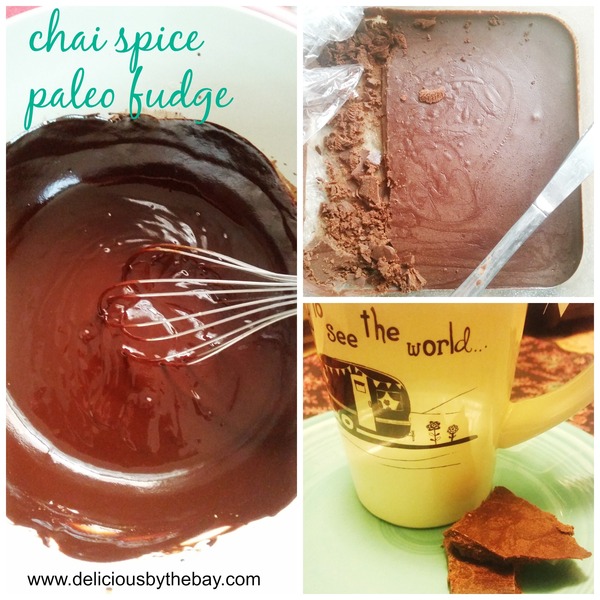 Have you tried paleo fudge? You have to! It's just three ingredients, 10 minutes hands-on time, a couple of hours to set, and a week's worth of healthy, sustained energy in a smooth chocolate delivery system. What could be better?
I'll tell you what could be better:
Chai Spice Paleo Fudge
I started with a recipe from the Paleo Hacks web site and adapted it to make it spicy. I subbed maple syrup for honey because that's what I had, and, voila! I've got fudge.
You will need:
1 cup + 1 tablespoon coconut oil
1 cup cacao powder or cocoa powder, unsweetened
1/2 cup Grade B maple syrup (or raw honey)
a pinch of cinnamon
a pinch of nutmeg
a pinch of cardamom
a pinch of ginger
Supplies:
a small sauce pan; a large mixing bowl; wire whisk; scraping spatula; an 8 x 8 baking dish, foil to cover
How to do it:
Melt coconut oil in a small sauce pan. Prepare your baking dish by oiling with 1 tablespoon of coconut oil. Combine the remaining 1 cup oil with cacao/cocoa powder in a large mixing bowl. Add maple syrup (or honey) and all spices. Mix with a whisk until everything is smooth, then scrape into your prepared baking dish. Cover with foil and cool in the refrigerator 1-2 hours, until hard. Cut into chunks to serve.
If you try this let me know how you like it. I'm having some with a strong cup of ginger tea as I write. It is so good.