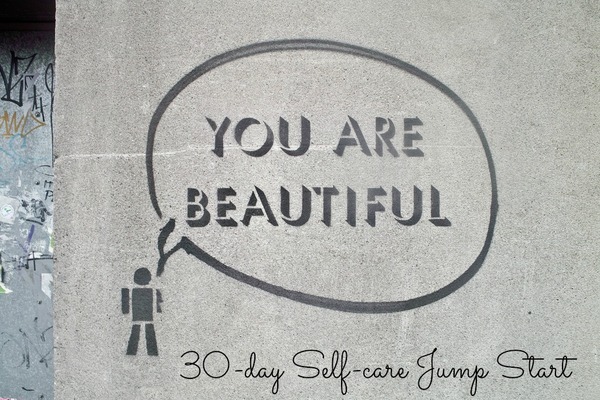 Good morning, beauty! Today's little mission for self-care is to make a small corner of your life organized and calming to look at. No need to spend the whole day cleaning house, but tidy up a small corner you use a lot. Clean with loving intention, perhaps meditating on your good fortune at having warmth, shelter, and a place to call home.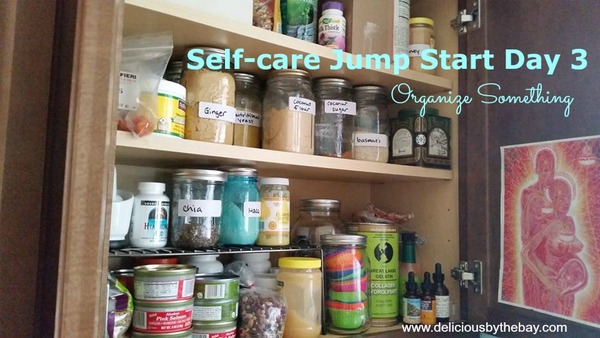 A good, small spot to focus on might be your desk, your bathroom counter, your vanity, or a kitchen cabinet. (That's my kitchen cabinet above, and you can probably tell from looking at it that, 1. I don't have a lot of pantry space, and 2. I'm kind of a birth junkie. Yes, that's a printout of an Alex Grey piece taped to the inside of my cupboard. Makes me happy every time I look at it.)
A tidy space is calming to the psyche, and there is even a school of thought that says living in clutter contributes to overweight. I believe that a calm environment brings a sense of peace and a feeling of competence. How about you? Do you thrive on a bit of chaos or do you need order in your personal space? Let us know in the comments!
Warmly,
Kirsten
Kirsten Quint Fairbanks is health coach and holistic living expert who loves offering real-world holistic coaching for mamas who want to consciously cultivate big lives that get them totally fired up.  Kirsten lives happily, works gratefully, dances inexpertly, paints badly, cooks traditionally, and rocks a tiny homeschool in the San Francisco Bay Area.  She believes that connection can change your life.   Read more about her here.